And now some words on their latest EP 'Polyhedra' from Youske (Ba.) and Reanne (Key.) of Octaviagrace h/t
Perdition
. Note I haven't had my copy of the the CD yet (it's still in the post dammit!) so cannot confirm anything written here and the guys got a bit technical, so let me know below if anything sounds wrong to you.
The Polyhedra drawn by these five people will repaint the scenery beyond your imagination as many times as you want!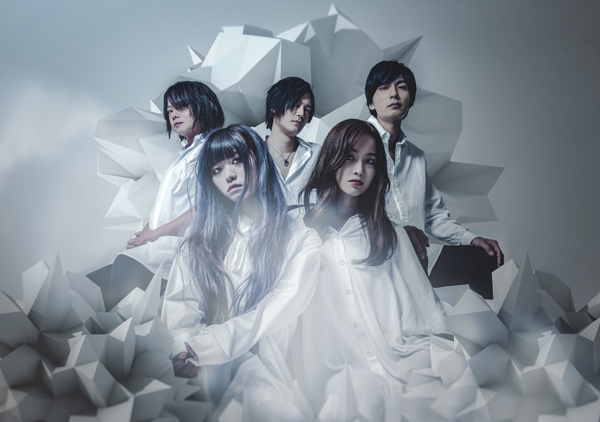 Original Article
Octaviagrace have completed a new EP "Polyhedra" for the first time in about a year from their previous work, their 1st full album "Outward Resonance". In addition to technical performance and progressive composition centred on heavy metal and hard rock, there are also addictive melodies from J-Pop and Anisongs which have been honed beyond previous works. This work in a minor key with a live feeling is more variegated and catchy ever than ever. According to meaning of the title "Polyhedra", the multi-dimensional progress of these five people will not stop moving on.
"Whether through the songs or the visuals, we'd like to constantly create something that can be interpreted as "There's so much more we can do!" in future works."
●It will be your first new work in about a year since your first full album "Outward Resonance".
Youske:As a theme for writing this "Polyhedra" work, I was planning to make it a bit different from our previous releases. I thought that we showed a number of skills in our previous work, but I also had a feeling that we would like to show another set here.
●Did you feel like you wanted to tackle new things?
Youske:That's the concept that's also included in the meaning of the title "Polyhedra". For example, there was also the idea of consciously trying to write minor-key songs as a principal part of the work which Octaviagrace hasn't done until now. Furthermore, it was of the form where songs written by all of us were gathered together.
●Was the title of the work decided some time ago?
Youske:Basically, the title of the album "Polyhedra" was decided before the titles of the songs. About the time we had put together the five songs to be recorded, we talked about what kind of meaning we wanted to put into the title this time. We thought "It's showing a lot of variety, isn't it?" From that point I looked for words with a meaning like "diversity" and came up with this title.
●I think that the previous work was also rich in variety, but for this work you're saying the breadth has been expanded even further from there?
Reanne:There were some places in "Outward Resonance" where we showed variation, but this time we were specifically focusing on songs that will work well live, and there are many places that we incorporated new elements that we haven't shown previously.
Youske:There was a theme of "a live feeling" this time. Even if it's a short live performance of 20 to 30 minutes or so, to do these 5 songs as the set list doesn't seem unsuitable as there is a logical progression in the songs. It starts with a vigorous piece of music, next comes a song with a hook, a slightly unusual song is interposed, there's a ballad, and then it concludes with another forceful tune … there's a certain flow.
●So because there are five songs with such different characteristics, there are the ups and downs of a single live set list by itself.
Youske:That's the good thing about this work.
Reanne:Everyone wrote songs and we brought them together, so every song has something new and unusual.
●The melody of M - 3 "Dear diablo" has an oriental feel for me.
Reanne:First of all this song was the most unusual, this has a chorus song melody. From there an image of the harpsichord or orchestra-like wind instruments and strings wells up. Normally, such songs often tend to become the so-called heavy metal-like two-bass sprints, but here there was the idea from the beginning that I wanted to get into a different rhythm pattern. Ko-ichi (Dr.) is better at playing with a smaller number of movements than a simple two bass sprint, so I thought if we tried it with this song it would feel like something unprecedented.
●It's a song that gives this work a particularly novel impression.
Reanne:Perhaps, for us, it may be our darkest tune ever. There is power in the song itself, but the melody is a typical minor key.
●Have you never had any songs in a minor key until now?
Youske:There are songs that make frequent use of minor chords, though. For example, although the songs I write use minor chord progression, the melody will definitely be in the major. That synergy leads my songs being in a major key that isn't too bright. In that sense, Octaviagrace has few complete tunes in a minor key.
●I think that's one of the facets of Octaviagrace.
Youske:I think that Miki's voice itself is the kind of voice that makes you feel better. People say that darker songs are better than bright songs, but for me it sounds better when she is singing a bright song with her cute voice. I think this current work also includes songs that match the voice of our vocalist as well.
●Do you imagine Miki's voice from the beginning to write songs that make best use of it?
Youske:That's the idea. Miki's singing also has an easy to listen to key, and we also grab a hold on that to some extent in writing the songs. Nevertheless, there are times when it will become disconnected. At times like that she herself rightly says "We should do it like this", and we'll devise an idea about the height of the melody and the arrangement of the song together. As of late, she's become able to sing with a particularly good range.
Reanne:At the song writing stage, I'm thinking about the way she sings in my mind. Because I've known about her great voice since we came together 2 or 3 years ago. After thinking about it, I can develop a view such as "If you do something like this in the vocal direction, even more interesting things will emerge?"
●By making full use of Miki's individuality, it becomes something more than you originally imagined.
Reanne:Regarding "Dear diablo", the melody is a minor key, but it felt a little comical as she sang it with such drive. She fits the mood cleverly there.
Youske:The lyrics of this song seems to be from different viewpoints between the first and second halves. The first is from the man's point of view, and the second is written from the woman's point of view. So the way to sing it is coolly in the first and charmingly in the second, obviously different. I think that it is interesting if you pay attention to that while listening.
●M-4 "eternity" is a result of Miki's song writing and composition, how did you put this together?
Youske:Miki wrote the original song on a midi keyboard and from there she and Ko-ichi have a meeting where they first attach the rhythm pattern. On top of that I add the bass and the basic framework has been created.
●The keyboard part is based on Miki's original song, which Reanne expands on?
Reanne:Yes. Because the original piano is just the chords to play. From the person writing, I get requests to incorporate what certain phrases in particular, which I extend further myself. In her songs, I particularly like the arrangements focusing on piano and violin, so I like to make arrangements that match those parts which complete it perfectly.
●In the interaction between members, I feel that there is close collaboration.
Youske:There are cases where Reanne expanded parts even in my songs that aren't clear from the credits, and in fact Miki suggests proposals like "Add to this measure here". There is a few places like that, but there aren't any songs that we've officially co-written as of now.
●Is there a possibility that co-written songs will appear in the future?
Youske: You'd think Reanne and I, who write most of the songs, should take the initiative and co-work, but… (laughs). I think that Miki and hanako should co-work, and I think there must surely be a way to do it. I'd like to create more interesting songs, so I hope that everyone can work together.
●M-5 "Ready for a moments" is a composition by Youske, with what kind of image in mind did you write this?
Youske:"Dramatic Quiet", which was also included in the previous work, is the first song I wrote for this band, but it has a good reputation and popularity even at live events and on SNS. The next "Azure Blue" (recorded for the single "Recollect Storia") is also popular there. But for myself, I wanted to break out of songs with such rhythm and tempo. So in my previous work I tried making a fast 8-beat song called "Emerging oath" as an experiment, and since it became my favourite song, I thought that for this work I'll also move forward a bit in that direction.
●Is it a song that further advanced along the "Emerging oath" route?
Youske:In an 8-beat song with a fast tempo, there are quite a lot of textures and the key isn't changing all the time. I thought that in "Ready for a moment" I drew a good line between being both technical and straightforward at the same time. But since it was lacking something interesting, it was a song written with considerable ingenuity, by inserting a part to create a competing counter-melody at the hook of the chorus.
● You tried various ways of figuring it out it seems.
Youske:Nevertheless everyone says "It's a real Youske song," but within myself, there was a conscious plan to change. There was an image that I would write songs in a different manner than previously.
●Is the composition of M - 2 "unblown bud" by hanako also unprecedented?
Youske:I'd say so. She's had a few hobbies of late. It seems that she has been inspired by various things, such as anime she's watched and games she's been playing. Originally, song melodies written by hanako had a melancholy nature. She's using more of the melody of 90's pop now, and I think that the backing is more modern, so that's something that has evolved now.
●For the opening M - 1 "Glorious world", what kind of image did you have?
Reanne:I wrote a song called "albescence" that was included in "Recollect Storia", but "Glorious world" is close to that in the composition and arrangement of the sound. I thought that I'd like to put in something like that but giving the song a brighter mood. As my songs frequently use dark melodies for this song I wanted to try to write a completely upbeat song.
●Looking at the lyrics of this song "Come on now, let's go out into the unknown world!" and the lyrics of "Ready for a moments" which say "It's going to be good from here on" I feel you're looking forward from the past .
Youske:I really like the lyrics of "Ready for a moments". It is very rare for the hook to start with an English lyric for Miki, but I think that the rhyming and word play in the lyrics is skilful and leads to an interesting song. There is a slightly different viewpoint from the lyrics of Octaviagrace to date. On the melody side also we were trying to challenge ourselves further and with it saying "From here on we will show more aspects of ourselves" it was appropriate for it to be the last song of this work in the sense that our feelings are included.
●"Outward Resonance" was also conspicuously outward facing in its title, but this work actually feels more open.
Youske:The illustration of the jacket is also like the world of the future ahead. I think that it is close to the world view of "Glorious world", I think that it gives off a "whole wide world" feeling.
Reanne:By putting out our first full album in the previous work, I think that we were able to create the image of "Octaviagrace is this sort of feeling" to some extent. But then putting out something like that again will lead us to become recognized as "This is what they do". Whether through the songs or the visuals, we'd like to constantly create something that can be interpreted as "There's so much more we can do!" in future works.
Interview:IMAI